1ST PLACE WINNER AT Seattle Chowder Chomp at the Seattle Boat Show
Pike Place Chowder's third consecutive win – 2018, 2017, 2016
Seattle's elite seafood restaurants will be coming together January 27 & 28 to battle it out for the title of "Best Boat Show Chowder!" Be a judge at this delicious and FREE event – you'll sample a variety of the Emerald City's most well-known chowders and vote on which one you think deserves the crown. To sweeten the pot, the winning restaurant will have a charitable donation made in their name to local nonprofit Salmon for Soldiers. So make sure to bring your appetite to the Seattle Boat Show's Charity Chowder Cook Off!
About Salmon for Soldiers: The mission of Salmon for Soldiers is to offer a sense of normalcy and relaxation to our nation's veterans through fishing. Salmon for Soldiers' fishing opportunities are designed to help reduce stress while creating new relationships with others who love fishing. Our events are designed to accommodate veterans with paralysis, PTSD, TBI and other debilitating challenges.
1ST PLACE NEW ENGLAND CLAM CHOWDER AT CHOWDAFEST
Pike Place Chowder's third consecutive win – 2017, 2016, 2015
Over 12,000 discernible foodies attended the 2017 New England Chowdafest, presented by Stop & Shop, making the 10th Annual our "chowda-best" yet! Thanks for helping Chowafest fund over 500,000 meals in the fight against hunger!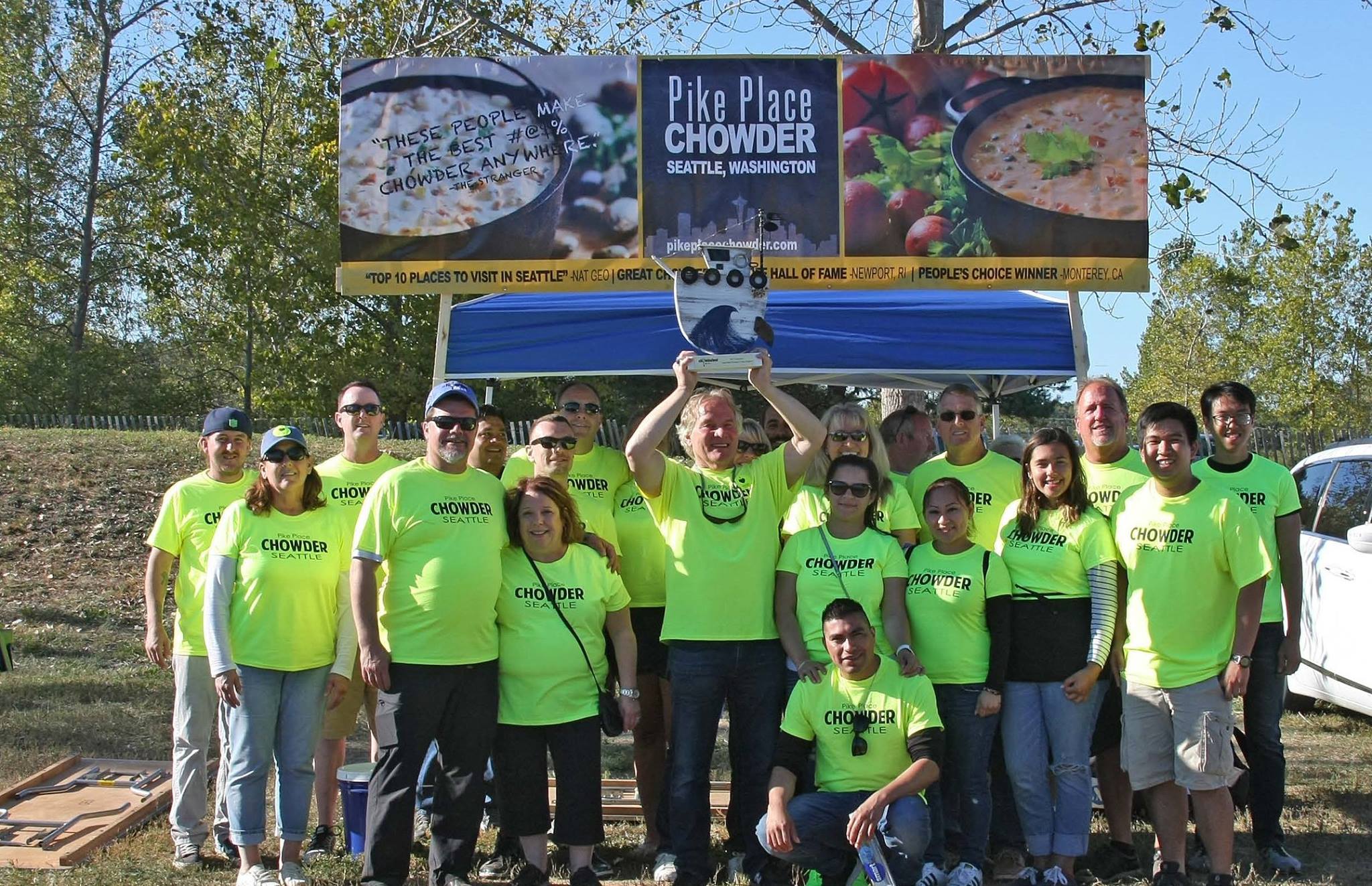 "Pike Place Chowder from Seattle reaffirmed why they are named "America's Favorite Chowder" winning Chowdafest for the third consecutive year!"
FIRST-PLACE AWARDS From Coast-to- Coast
2018, 2017, 2016 Seattle Chowder Chomp at the Seattle Boat Show
2017, 2016, 2015 Chowdafest, Westport, CT
2012, 2011 West Coast Chowder Competition, Monterey, CA
2006 Great Chowder Cook-Off, Newport, RI – 1st Place
2002 Inducted – Great Chowder Cook-Off, Hall-of-Fame Induction in Newport, RI
2002, 2001, 2000 – Great Chowder Cook-Off, Newport, RI
1996 Seaside Chowder Cook-Off, Seaside, OR (The only chowder in the history of the Seattle Chowder-Off to receive both the Judges Award and the People's Choice Award
1994, 1993 Seattle Chowder-Off, Seattle, WA